If you know me, you know that my FAVORITE holiday of all time is 4th of July. Why? Fun fact: I am a huge American history nerd and also because I am obsessed with all the star spangled fun that comes with the entire weekend. How could you not love all the patriotic festivities, the fireworks, the barbecues and of course all of the festive drinks? Each year, I love experimenting and trying unique 4th of July cocktails. This year, if you're anything like me I have been so bogged down with commitments and obligations so I am a bit behind on just about everything… but I never slack on my cocktails! I still want to get red, white and boozy… so here are some easy, last minute 4th of July sips perfect for having in hand while you're grilling, chilling, pooling and celebrating with friends.
Gray Whale Gin on the Rock-ets
Ingredients:
3 oz Gray Whale Gin
1 red, white and blue popsicle
Method:
Pour Gray Whale Gin in a glass. Dip popsicle + enjoy!
The Roughneck Colada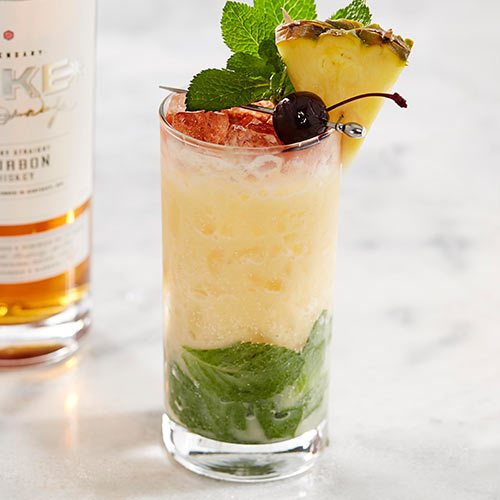 Ingredients:
1 oz Duke Bourbon
½ oz Atlantico Reserva
½ oz Fresh Lime Juice
½ oz Coconut Cream
½ oz Orange Juice
1 oz Pineapple Juice
8-10 Leaves of Fresh Mint
½ oz Float of Fernet Branca
Garnish: Fresh Pineapple, Amarena Cherry, Mint Sprig
Method:
Roll mint and drop into an empty collins glass then top with crushed ice, shake 1-6 with ice and strain over the crushed ice then top with Fernet Branca.
Chandon American Summer Brut Spritz
3 parts Chandon Limited-Edition American Summer Brut
2 parts quality Italian Aperitif
1 part Sparkling Water
Method:
Add Italian Aperitif to wine glass with ice. Add splash of sparkling water and stir. Top with Chandon. Garnish with an orange wheel.
The Rainbow Crush
Ingredients:
To create the 'Rainbow Crush' cocktail each layer is created separately
Red layer: 1/2 oz Gray Whale Gin + 1/2 oz pureed blackberries + 1/4 oz lemon juice
Blue Layer: 1/2 oz Gray Whale Gin + 1/4 oz fresh squeezed yuzu + 1 tsp Blue Green Algae powder + 1/2 oz simple syrup
Green Layer: 1/2 oz Gray Whale Gin +1/2 oz pressed cucumber juice + 1/2 oz simple syrup
Orange Layer: 1/2 oz Gray Whale Gin + 1/2 oz pureed mango + 3/4 oz lime juice
Garnish: Peychaud's bitters
Method:
Gently shake each layer's ingredients, strain into a collins glass and top each layer with crushed iced as you go. Top with Peychaud's bitters.